Research Activities
With the aim of advancing personalized medicine and personalized prevention, we conduct genome analyses of biological specimens provided by cohort studies using next-generation sequencer. We also conduct omics analyses of protein and low-molecular metabolites using NMR, mass spectrometer, among other instruments. This data is processed using a super computer and other technologies.
In parallel with these analyses, we are developing technologies for analyzing biological specimens, as well as software and information analysis methodologies for processing large quantities of data, including genome data.
One of our goals is to create a benchmark genome reference panel of Japanese people through whole-genome analyses of more than 4,000 people.
We have furthermore developed a tool for analyzing the genomes of Japanese people, which have allowed the analysis of quasi-whole-genome sequences of Japanese people (Japonica Array).
Key Word: Massive parallel sequencing, Population genetics, Proteomics, Metabolomics, Bioinformatics, High performance computing
Publications
Regional genetic differences among Japanese populations and performance of genotype imputation using whole-genome reference panel of the Tohoku Medical Megabank Project

Jun Yasuda, Fumiki Katsuoka, Inaho Danjoh, Yosuke Kawai, Kaname Kojima, Masao Nagasaki, Sakae Saito, Yumi Yamaguchi-Kabata, Shu Tadaka, Ikuko N. Motoike, Kazuki Kumada, Mika Sakurai-Yageta, Osamu Tanabe, Nobuo Fuse, Gen Tamiya, Koichiro Higasa, Fumihiko Matsuda, Nobufumi Yasuda, Motoki Iwasaki, Makoto Sasaki, Atsushi Shimizu, Kengo Kinoshita, Masayuki Yamamoto
BMC Genomics 2018 19:551, 24 July 2018; doi:https://doi.org/10.1186/s12864-018-4942-0
article

The structural origin of metabolic quantitative diversity

Seizo Koshiba, Ikuko Motoike, Kaname Kojima, Takanori Hasegawa,Matsuyuki Shirota, Tomo Saito, Daisuke Saigusa, Inaho Danjoh, Fumiki Katsuoka, Soichi Ogishima, Yosuke Kawai, Yumi Yamaguchi-Kabata, Miyuki Sakurai, Sachiko Hirano, Junichi Nakata, Hozumi Motohashi, Atsushi Hozawa, Shinichi Kuriyama, Naoko Minegishi, Masao Nagasaki, Takako Takai-Igarashi, Nobuo Fuse, Hideyasu Kiyomoto, Junichi Sugawara, Yoichi Suzuki, Shigeo Kure, Nobuo Yaegashi, Osamu Tanabe, Kengo Kinoshita, Jun Yasuda & Masayuki Yamamoto
Scientific Reports 6, Article number: 31463 (2016) doi:10.1038/srep31463
article

iJGVD: an integrative Japanese genome variation database based on whole-genome sequencing

Yumi Yamaguchi-Kabata, Naoki Nariai, Yosuke Kawai, Yukuto Sato, Kaname Kojima, Minoru Tateno, Fumiki Katsuoka, Jun Yasuda, Masayuki Yamamoto and Masao Nagasaki
Human Genome Variation 2, Article number: 15050 (2015); doi:10.1038/hgv.2015.50
article
Click HERE for more publications related to integrative genomics in ToMMo.
Data Sharing
Japanese Multi Omics Reference Panel (jMorp)
"jMorp" is a database consisted of genome, metabolome and proteome data in plasma. Multiple omics analysis data obtained by ToMMo is integrated to "jMorp", and opened to the researchers online.
Genome Variation
We performed around 3,500 whole genome sequencing and construct genome reference panel for the Japanese population (3.5KJPNv2). Information on frequencies and locations of all found single-nucleotide variants (SNV) on the panel is available through the "jMorp".
You can search your interested SNVs on our platform by the reference SNP ID number (rsID), Gene Symbol and locate information on the international human genome reference sequence. All found SNVs frequencies in our reference panel are displayed and you can compare with gnomAD. All the frequencies and locate information are downloadable by a single file for each chromosome. In addition to enhancements of jMorp, it includes such as X chromosome data, mitochondria data, and implementation of the variant-structure mapping visualization tool.
You can access the former versions of our genome reference panels, such as 1KJPN around 1,000 whole genome sequencing released as the first version of our panel in 2013, 2KJPN released in 2015, and 3.5KJPN released in 2017 on Integrative Japanese Genome Variation Database (iJGVD).
・After 3.5KJPNv2


Achievement of Research product by Whole Genome Reference Panel: Japonica Array
The "Japonica Array", DNA microarray designed for genome analysis of Japanese population, is developed in 2014 by ToMMo, and it has been used for our genome analyses of tens of thousands of cohort participants. The array contains common SNPs in the Japanese population as well as disease-related SNPs. A whole genome sequence can be imputed very precisely with our genome reference panel.
Genome Sequence
ToMMo has released the Japanese reference genome, JG1, constructed by integrating three de novo assembled genomes of Japanese male individuals. The Japanese reference genome is available online.
You can access the former versions of the Japanese reference genome v1 (JRGv1) released on 2016, or v2 (JRGv2) released on 2017 with a long-read-type next-generation sequencer, PacBio RSII (Pacific Biosciences).
・JG1


・JRG (v1,v2)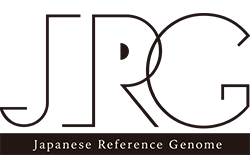 Metabolome and Proteome
On "jMorp", the results of global metabolome analysis for metabolites in serum and proteome analysis are available online. You can find the distribution and frequencies information for major metabolites for several thousand populations and proteins for several hundred populations.
Metabolome data were measured by proton NMR and LC-MS, and proteome data were obtained by nanoLC-MS.
Metabolome and proteome data obtained from more than 10,000 adults.
We measured several thousand metabolites including the uncharacterized ones and several hundred proteins by now. The data will be released after carefully checking each metabolite and protein in order. We also released a correlation among metabolites and observed peptides of 256 abundant proteins.

Movies
We use the next-generation genome sequencer to analyze the whole genome sequences of the part of cohort participants.
Interviews
-3/11, Disaster Medicine, & ToMMo: Perspectives from the Executive Director (Interview with Dr. Yamamoto, November 10, 2015)
Press Releases
-The Japanese reference genome, JG1, constructed by integrating three de novo assembled genomes of Japanese male individuals (Feb. 25, 2019)
-Genetic Diversity of Enzymes Alters Metabolic Individuality (Sep. 2, 2016)
-Rare variant discovery by deep whole-genome sequencing of 1,070 Japanese individuals (Aug. 21, 2015)
-Japonica Array: Improved genotype imputation by designing a population-specific SNP array with 1,070 Japanese individuals (June 24, 2015)
-Partial release of data from Tohoku Medical Megabank Project's Whole Genome Reference Panel (Sep. 5, 2014)
-Tohoku Medical Megabank Organization high-accuracy whole genome sequencing of 1,000 healthy Japanese people: A base to search for the causes of diseases-Collection of over 15 million new gene polymorphisms- (Nov. 29, 2013)
News
-Change of the data access control of 3.5KJPNv2, allele frequency data in Japanese genome reference panel, to open category (Jan. 25, 2019)
-Expanded version of Japanese genome reference panel including INDEL allele is available online (Jan. 15, 2019)
-New version of Japanese Multi Omics Reference Panel "jMorp": 10,719 people Metabolome data are now available online (Sep. 6, 2018)
-Expanded version of Japanese genome reference panel including mitochondria and X chromosome is available online (June 25, 2018)
-New expanded version of Japanese Multi Omics Reference Panel "jMorp": 5,093 people Metabolome data are now available online (Oct. 3, 2017)
-The locations and allele frequencies of SNVs of 3,554 Japanese individuals by whole genome sequences is available (Sep. 28, 2017)
-Announcing release of JRG v2 and decoyJRGv2 (June 6,2017)
-We enlarged Japanese Multi Omics Reference Panel "jMorp", 1,008 people Metabolome data are now online (Sep. 12, 2016)
-Announcing release of JRG v1 (Aug. 25, 2016)
-Release of locations and allele frequencies of all SNVs in whole genome sequences of 2,049 Japanese individuals (June 6, 2016)
-Access for the locations and allele frequencies of all SNVs in the Whole Genome Reference Panel (Dec. 10, 2015)