The Birth and Three-Generation Cohort Study is a family-based cohort in which pregnant women and their families participate. This cohort has successfully recruited more than 73,000 people mostly in Miyagi Prefecture since 2013 for 4 years, and now it is in the follow-up phase. The cohort study is an inimitable study in the world because it can follow children from birth and key of finding diseases factor.
Expecting mothers who are diagnosed with pregnancy at maternity facilities were recruited in this cohort study. Once we recruit the mothers, as well as we ask their family such as husband or their parents to join and take a health survey at assessment centers.
We have started a follow-up study "repeat assessment center-based survey during the second period" since 2017. Adult participants who have already done baseline assessment are able to take the second health survey at the centers. For children participants who were new born baby or their siblings, they take health survey at the centers when they reach around 4 years old, 10 years old and 16 years old.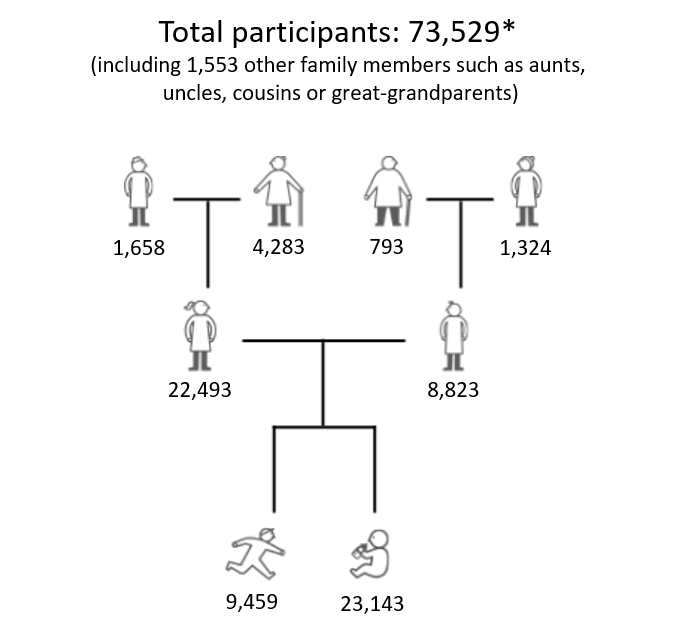 Number of participants
Ca.73,000
Recruitment period
From July 2013 to March 2017
Follow up phase
Start from June 2017
Participants
Adult: Pregnant women who are residing in Miyagi Prefecture and their relatives
Children: New born babies and their siblings
Recruitment method
-Request expectant mothers to participate the study one by one at maternity facilities.
-Request their relatives to participate the study and take health survey at the centers.
Requested cooperation
Questionnaire, check-up at the center, various biological specimens (including specimens for genetic analysis); follow-up studies (annual questionnaire and health survey at the center)
Major target diseases*
Pregnant and perinatal period diseases
-allergic diseases
-developmental disorders
-chronic diseases
-mental diseases
-infectious diseases
* Our major focus is the common diseases that involve the interplay between genetic factors and environmental factors, but we have selected the diseases (upper table) because of concerns over the potential increase in their prevalence in the disaster-affected areas and/ or the degree of disease burden on the population in general.
Key Features
-The data of 23,000 children who were new born baby with family information and mother's information during pregnancy enables systematic long-term study which show us how environmental factors in fetal period affect the diseases.
-The large amount of 73,000 samples enables a haplotype phasing, parametric linkage analysis, cross-family identity by descent (IBD) mapping, and family-based association studies.
-The cohort participants include more than 300 pair of twins, 10,000 trios (mother, father, and child), 199 seven-member families (mother, father, child, grandfathers and grandmothers), and 401 large families (more than 8 members).
-10,000 trios of cohort study enable more effective genetic analysis of disorders with pedigree analysis. We will keep conducting genetic mapping and perform SNP array-based analyses.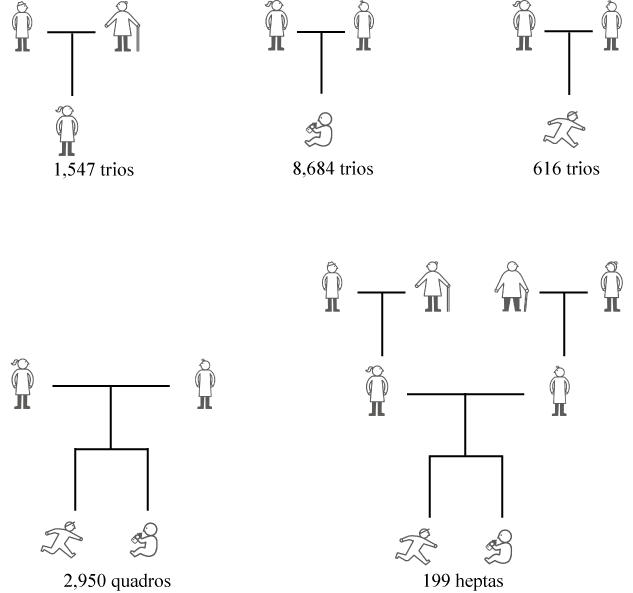 Related Information
The article about the design of Tohoku Medical Megabank Project Birth and Three-Generation Cohort Study was published (2019/09/30)
The Maternity Log Study (MLOG)
We perform the Maternity Log Study (MLOG) as an additional study on participants of TMM BirThree Cohort Study. In the study, we collected lifelog data of mothers during pregnancy with a smartphone.
Related Information
The article about design of Maternity Log study was published (2019/03/06)
DOCOMO and ToMMo to jointly research pregnancy disease prevention and early detection (2014/11/19)