The Birth and Three-Generation Cohort Study (TMM BirThree Cohort Study) is a family-based cohort study involving pregnant women and their families. This study has successfully recruited more than 73,000 participants (mostly from Miyagi Prefecture) between 2013 and 2017 – a time period of 4 years. The cohort study is unique, as it can follow the health of people from before over a long time span. This is a key to finding various factors associated with certain diseases.
Expecting mothers who are diagnosed with pregnancy at maternity facilities were recruited in this cohort study. The family members of the recruited pregnant women, such as their partner or parents, are then also asked to join the study and undertake a health survey at Community Support Centers.
Through these surveys, the TMM BirThree Cohort Study aims to clarify the pathology and characteristic of diseases in all courses of life – from newborns, children, adults, and the elderly. In doing so, we hope to be one step closer to attaining precision and personalized medicine.
Details of TMM BirThree Cohort Study
Number of participants
Approx. 73,000 people (Adult: 41,000 ppl, Under 20 years old: 32,000 ppl)
Recruitment period
(Baseline assessment)
From July 2013 to March 2017
Follow up phase
Commenced in June 2017, ongoing
Secondary assessment: June 2017 to March 2021
Tertiary assessment: July 2021 to present
Participants
Adult: Pregnant women who are residing in Miyagi Prefecture and their relatives
Children: Newborn babies and their siblings
Recruitment methods
-Request expectant mothers to participate in the study one by one at maternity facilities
-Request their relatives to participate in the study and take a health checkup at the centers
Requested cooperation
Questionnaire, check-ups at the center, collection of various biological specimens (including specimens for genetic analysis); follow-up studies (annual questionnaire and health survey at the center)
Major target diseases*
Pregnant and perinatal period diseases
-Allergic diseases
-Developmental disorders
-Chronic diseases
-Mental diseases
-Infectious diseases
* Our major focuses are the common diseases that involve the interplay between genetic factors and environmental factors. We have chosen the targeted diseases listed above because of concerns over the potential increase in their prevalence in disaster-affected areas and/ or the degree of disease burden on the population in general.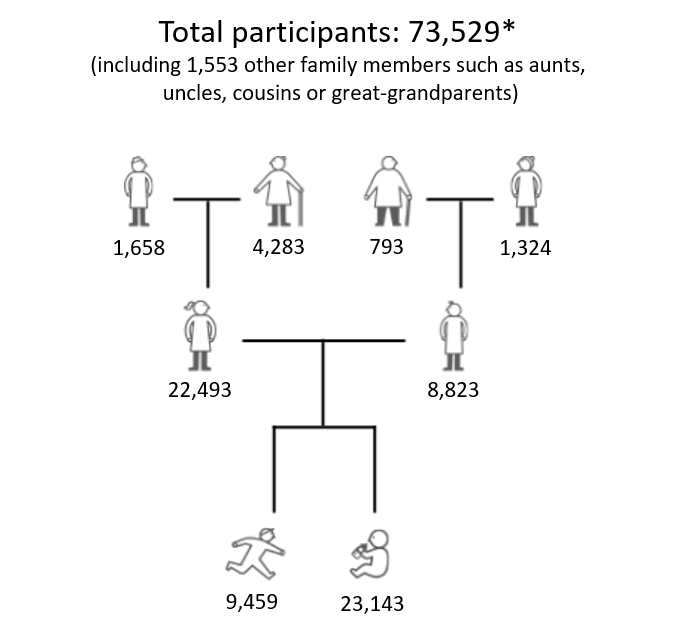 Publications
Kuriyama Shinichi, Metoki Hirohito, Kikuya Masahiro, et al. Cohort Profile: Tohoku Medical Megabank Project Birth and Three-Generation Cohort Study (TMM BirThree Cohort Study): rationale, progress and perspective. International Journal of Epidemiology. 2020; 49 (1): 18-19m. doi:10.1093/ije/dyz169
Other Major Publications (cohort study)
Follow up
A follow-up survey also commenced since we recruited participants. This involved a survey being mailed to participants – once every two years for children, and once every five years for adults. Additionally, we collect sufficient medical and public information regarding the participants of the study. This component of the cohort study required working alongside especially medical institutions and municipalities.
In June 2017, we have started conducting a secondary assessment. Adult participants who had completed the baseline assessment were asked to undertake a second health survey at the Community Support Centers, where questionnaires and check-ups are conducted. Children participants (newborns, or their siblings) were asked to undertake a health survey at the centers when they reached approximately 4, 10 and 16 years of age. The secondary assessment was fully completed in March 2021.
Proceeding the secondary assessment, in July 2021, was the commencement of the tertiary assessment. As time passes, the health conditions of people change. The purpose of the tertiary assessment is to study these changes to better understand diseases. Previous participants of the baseline and secondary assessments are asked to visit the center once every five years.
Key Features
-The data of 23,000 newborns with family and mother's information during pregnancy enables systematic long-term study that can show how environmental factors in the fetal period affect a disease.
-A large amount of samples (73,000) allows for haplotype phasing, parametric linkage analysis, cross-family identity by descent (IBD) mapping, and family-based association studies.
-The cohort study contains more than 300 pairs of twins, 10,000 trios (mother, father, and child), 199 seven-member families (mother, father, child, grandfathers, and grandmothers), and 401 large families (greater than 8 members).
-This study involving 10,000 trios resulted in more effective genetic analysis of disorders with pedigree analysis. Genetic mapping and SNP array-based analyses can also be conducted on these trios.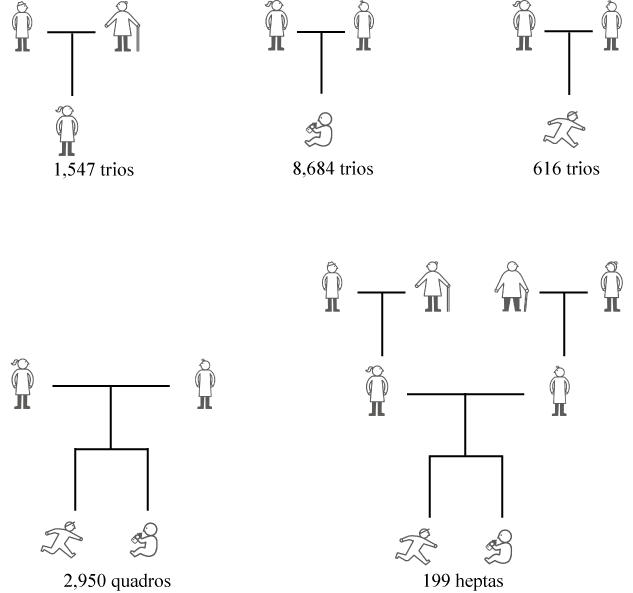 Related Information
We performed the Maternity Log Study (MLOG) as an additional study on participants of TMM BirThree Cohort Study. In the study, we collected lifelog data of mothers during pregnancy using a smartphone.
The article about design of Maternity Log study was published (2019/03/06)
DOCOMO and ToMMo to jointly research pregnancy disease prevention and early detection (2014/11/19)
We also conducted a questionnaire survey as the ToMMo Child Health Study from FY2012 to FY2015 in Miyagi Prefecture. The purpose of this study was to address the health needs of children who were at risk of illnesses or a worsening of symptoms following the Great East Japan Earthquake.