Reconstruction and Creation, and Facilitating Personalized Healthcare ~At a turning point: 10 years since the Great East Japan Earthquake~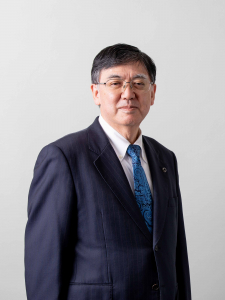 Ten years have passed since the Great East Japan Earthquake and Tsunami on March 11, 2011, which caused unprecedented damage and deprived us of our normal lives. I would once again like to extend my deepest condolences to the many victims and their families. I also wish to express my heartfelt sympathy for the people who continue to face hardships in the aftermath of the earthquake and tsunami.
The Tohoku University Tohoku Medical Megabank Organization (ToMMo) searched for light at the end of the tunnel through trial and error, amid a struggle to heal from the damage caused by the earthquake. During that time, the benefit of implementing a project that would contribute to the reconstruction of medical care in the disaster area became apparent. Furthermore, the necessity of building a developing system for future medical care to promptly deliver medical care to the people affected by the disaster emerged.
At the dawn of this project, we first endeavored to recruit Birth and Three-Generation Cohort Study, focusing on recruitment of pregnant women and their families in Miyagi Prefecture, and Community-Based Cohort Study, focusing on recruitment of local residents in both Miyagi and Iwate Prefectures. With everyone's cooperation and strong help from our partners, we have successfully recruited a total of more than 157,000 people for both cohort studies.
Serious illnesses were discovered through participants' health surveys during these cohort studies. When urgent action was needed, we returned the results immediately and referred the participants to medical institutions. We also conducted a cutting-edge analysis of biological specimens and built an integrated biobank that distributes the results of this analysis along with health information. We provide participants' health information and information on the medium- to long-term effects of the earthquake to local governments as statistical data, to contribute to their health policy and to improve the health of residents. Meanwhile, we consistently dispatch physicians to regional medical institutions through our original system, contributing to the recovery of the health of local residents.
From 2021, ToMMo will work on projects that will build personalized healthcare. In the cohort follow-up survey, we will proactively introduce new methods in an attempt to efficiently collect life course data and elucidate the effects on medium- to long-term health after a large-scale disaster. Additionally, we aim to resolve health issues associated with the progression of the aging society, such as dementia. Further, we will consistently collect samples and information on priority diseases at each stage of life; its prenatal, early, middle, and late stages. In doing so, we aim to construct a research infrastructure that utilizes large-scale samples and information throughout the course of an individual's life, in cooperation with other cohorts and biobanks.
Furthermore, we are planning to improve the accuracy of risk prediction information on multifactorial diseases to facilitate personalized healthcare and face the challenge of next generation medical examinations using the Japonica Array. The expansion of the scale of whole genome sequence analysis is planning to achieve 100,000 Japanese analyses through industry-government-academia collaboration. We will conduct basic analysis to meet the needs of users, while incorporating rapidly advancing analytical technology, thus forming an integrated biobank. The steady implementation of these plans will contribute to personalized healthcare management in Japan as well as globally.
More than ever, we wish to sincerely request guidance and encouragement from related parties, including local residents, related ministries and agencies, Miyagi prefecture, municipalities, health care institutions, medical associations, and research institutes. Thank you again for your continuing help and let's work together.
March 2021
Masayuki Yamamoto
Executive Director