A Milestone Year for Tohoku Medical Megabank Organization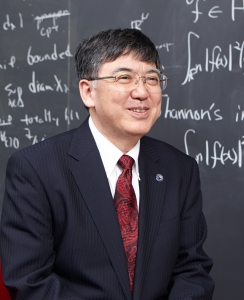 February 1st marks the eighth year since the establishment of Tohoku Medical Megabank Organization (ToMMo). Launched in 2011, the Tohoku Medical Megabank Project is on schedule to enter its final year this April. This chapter of Japan's first attempt to combine a large-scale prospective cohort study with the creation of an integrated biobank of healthy individuals is drawing to a close. The project's future directions are currently being discussed by experts, and guidelines will be presented within a year. With your help and support, we will continue to drive the project forward—as a vehicle for creative reconstruction and a trailblazer in next-generation medicine—in the hopes of attaining a wide range of promising results.
Last year marks Japan's transition from the Heisei to the Reiwa era, during which ToMMo achieved several milestones. In February 2019, we published the first version of the Japanese Reference Genome (JG1). One of the core researchers involved in its development, Assistant Professor Jun Takayama, recently received the Japan Agency for Medical Research and Development (AMED) President's Award. In August, we started distribution of biological samples and data for approximately 67,000 people obtained in the Community-Based Cohort Study, and in September, greatly expanded the registry of the Japanese Multi Omics Reference Panel (jMorp) database, a crucial tool for open data sharing. In December, we started providing data tagged with genealogical information, obtained for the first time in the Birth and Three-Generation Cohort Study, and expanded the volume and types of data available for sharing. We also released Japonica ArrayTM NEO, a disease-related single nucleotide polymorphism (SNP) array, capable of high-speed, high-precision genome analysis while keeping costs low.
This past year was also a time of strengthened collaboration with other organizations. In February 2019, we signed a partnership agreement with the Japan Aerospace Exploration Agency (JAXA); in April, we published the findings of collaborative research with Kyoto University's Center for iPS Cell Research and Application (CiRA); and in October, we launched a multi-institution cross search system spanning several Japanese biobanks. In addition to our cohort study, we are further expanding the scope of our research data with the participation of various firms and researchers. We will continue to connect organizations and collaborate with them even more closely in this coming year.
As I mentioned at the outset of this message, this year will mark a culmination of achievements for ToMMo. Our team is united in continuing the projects to create a foundation of medical care in Japan to be passed on to the next generations, and in remembering that the constant support of our study participants led to various achievements. We humbly request your continued guidance and encouragement for ToMMo throughout this coming year.
February 2020
Masayuki Yamamoto
Executive Director
---
Other Messages
Seeking to Establish an Advanced Community Medical System (Feb. 2012)