The Tohoku Medical Megabank Project (TMM project) is pursuing the following studies:
-Long-term health survey program with local residents
-Establishment and operation of a large-scale biobank that integrates both biological specimens and health-related information
-Analysis of biological specimens and information accrued in the biobank using advanced and innovative technologies
Through these activities, The TMM Project is enhancing the progression of future-oriented healthcare and cutting-edge research, while contributing to reconstruction efforts after the Great East Japan Earthquake.
Long-term Health Survey Program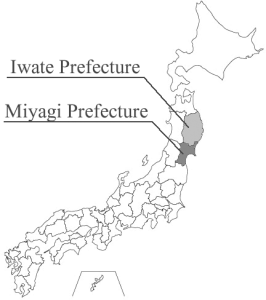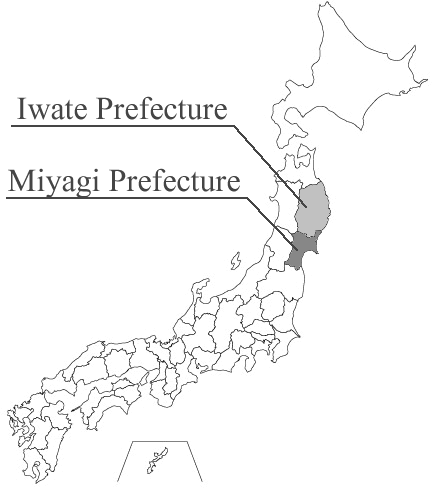 The TMM Project has received genetic information from a total of 150,000 residents who have given us their consent to conduct a long-term follow-up on their health.
The project conducts two health study programs: the Tohoku Medical Megabank Project Community-Based Cohort Study (TMM CommCohort Study) and the Tohoku Medical Megabank Project Birth and Three-Generation Cohort Study (BirThree Cohort Study). A cohort study is where information on the lifestyle habits of a large group of people are collected and studied to understand how their habits and the environment correlate with disease.
TMM CommCohort Study
Number of participants
Approx. 84,000 people
Recruitment period
(Baseline assessment)
From July 2013 to March 2016
Follow up phase
Commenced in June 2017, ongoing
Secondary assessment: June 2017 to March 2021
Tertiary assessment: July 2021 to present
Participants
Residents of Miyagi Prefecture and Iwate Prefecture whom are 20-years of age and older
Recruitment methods
-Recruitment for study participation at municipality setting-based specific health checkup sites
-Promote visits to the Community Support Centers (Miyagi), and satellites (Iwate) through public relations activities
TMM BirThree Cohort Study
Number of participants
Approx. 73,000 people (Adult: 41,000 people, Under 20 years old: 32,000 people)
Recruitment period
(Baseline assessment)
From July 2013 to March 2017
Follow up phase
Commenced in June 2017, ongoing
Secondary assessment: June 2017 to March 2021
Tertiary assessment: July 2021 to present
Participants
Adult: Pregnant women who are residing in Miyagi Prefecture, and their relatives
Children: Newborn babies and their siblings
Recruitment methods
-Request expectant mothers to participate in the study one by one at facilities that provide maternity care
-Request their relatives to participate in the study and take a health checkup at the centers
The health-related data obtained by the long-term health survey program are provided to local governments and other appropriate institutions for use in health care administration and other relevant activities.
Community Support Centers have been established as bases for long-term health studies. They support activities for people participating in the studies, as it is crucial for them to have support and exchanges with community members.
More detail about the long-term health survey program is HERE
Integrated Biobank and Analysis
Building and Operating a Biobank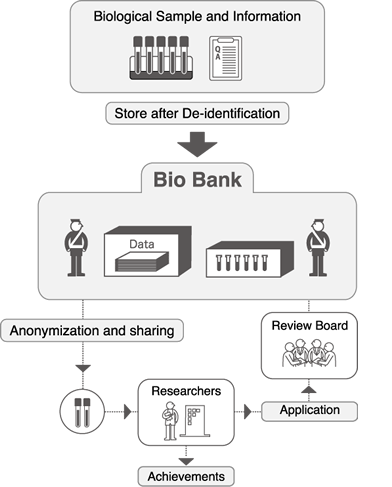 Our biobank is collecting and storing de-identified biological specimens including DNA, plasma and serum from blood, as well as corresponding health-related and clinical information obtained from the participants of the cohort studies. Researchers from various institutions use those resources for health-related studies, after their research applications are approved.
More detail about biobank is HERE
Analytical Information in the Biobank
ToMMo conducts many different analyses on biological specimens obtained from participants of the cohort studies. A representative example of this is the whole genome analyses that we conduct. In November, 2013, the whole genome of 1,000 individuals were completed for the first time in Japan. Since then, we have continued to steadily progress with analyses, reporting a total completion of 69,000 in 2023. Microarray analysis (primarily using the Japonica Array developed by ToMMo) of all 150,000 participants in the cohort study has also been completed. Additionally, metabolome analysis of tens of thousands of people and oral metagenome analysis are also currently underway. By integrating analytical information with the results from surveys and physiological function tests collected from the same individuals, we aim to identify the cause of disease that are the result of a combination of genetic and environmental factors. Through our efforts, we are contributing to the establishment of personalized healthcare for a wide variety of diseases.
More detail about genomic analysis is HERE
Educational Programs for Personalized Medicine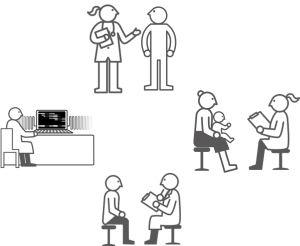 Through the advancement of TMM project, we are fostering human resources who will support personalized healthcare. Genome Medical Research Coordinators (GMRCs) are essential to ToMMo's long-term health research. A GMRC is a research support specialist with knowledge of genomic medicine who explains the research to participants of the genomic cohort studies and obtains written consent from them. The GMRC enables participants to understand what is involved, which then allows them to consider collaborating in our research. ToMMo is committed to the development of GMRCs and has developed and operates its own certification system. Certified genetic counselors, clinical geneticists, and data scientists are also expected to play an active role. It is predicted that these positions are indispensable for medical care tailored to personalized healthcare, in the near future.
Genome Medical Research Coordinator (GMRC)
ToMMo has newly established an education and training course with its own original curriculum in 2012, and even now still certifies genome medical research coordinators. By the end of July 2023, 367 ToMMo GMRC have been trained and certified.