The building for the Tohoku Medical Megabank Organization was designed for Tohoku Medical Megabank Project and the construction of that completed in 2014. It is located on the southwest corner of the Seiryo campus. The building has seismically isolated structure and some characteristics specialized for the project. Around 300 people are working in this building for establishing the genome medicine.
Floor
7 stories (partly 5 stories)
Structure
Precast concrete structure (base isolation system), joint complex with
the "School of Medicine, Building No.6".
Building area
3425.62m2
Total floor area
18017.67m2
Major facilities
Biobank (Biospecimen Storage), MRI, NMR, Genome Analyzing System,
Supercomputer System, Sendai Community Support Center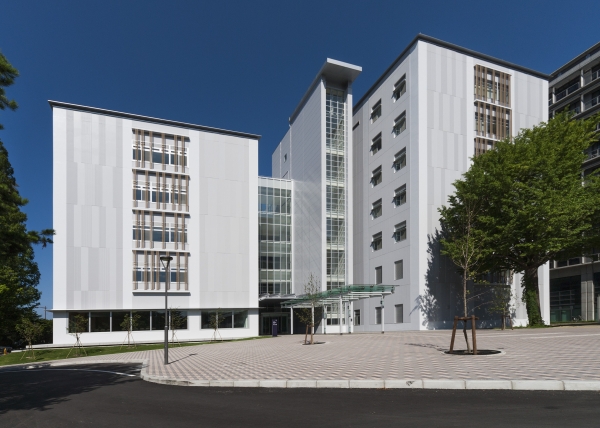 Sendai Community Support Center
Sendai Community Support Center was established as an assessment center for TMM CommCohort Study and TMM BirThree Cohort Study performed by Tohoku Medical Megabank Organization. We also established six more assessment centers at Miyagi prefecture. We attempt to make the basis for next-generation medicine by analyzing the genome information and make storage for these big data. Participants are explained individually by Genome Medical Research Coordinator (GMRC) for the informed consent to join our project. In the center, there are more than ten equipment for medical examinations such as body composition analysis, bone density measurement, respiratory function test and oral health check-up. We also have MRI facilities, rooms for related cognitive assessment, and the counseling rooms for mental healthcare and genetic counseling.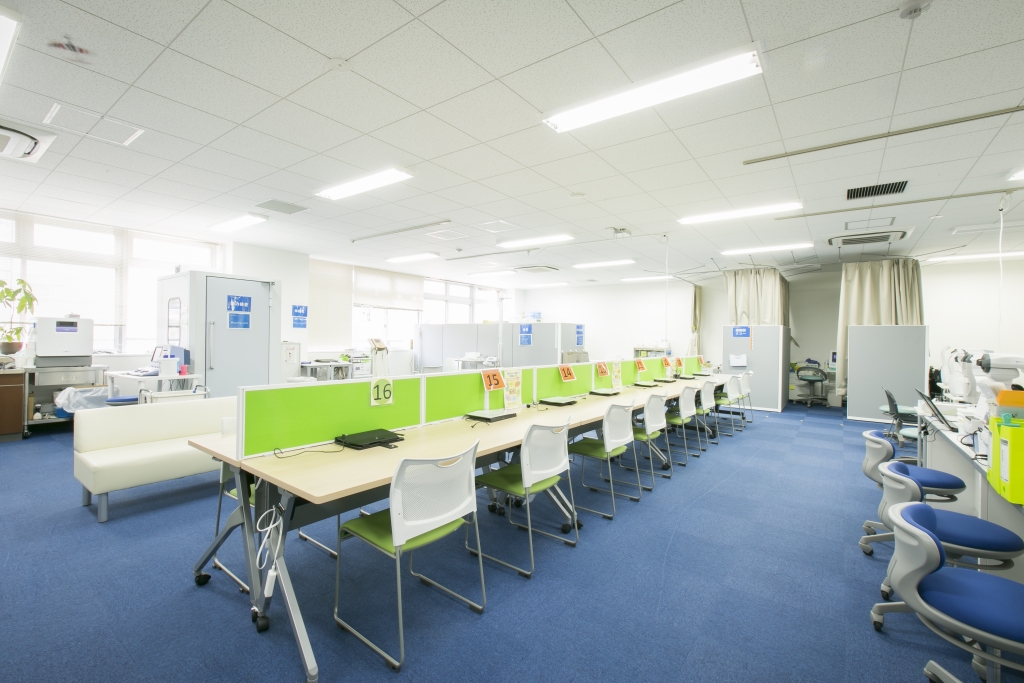 Community Support Center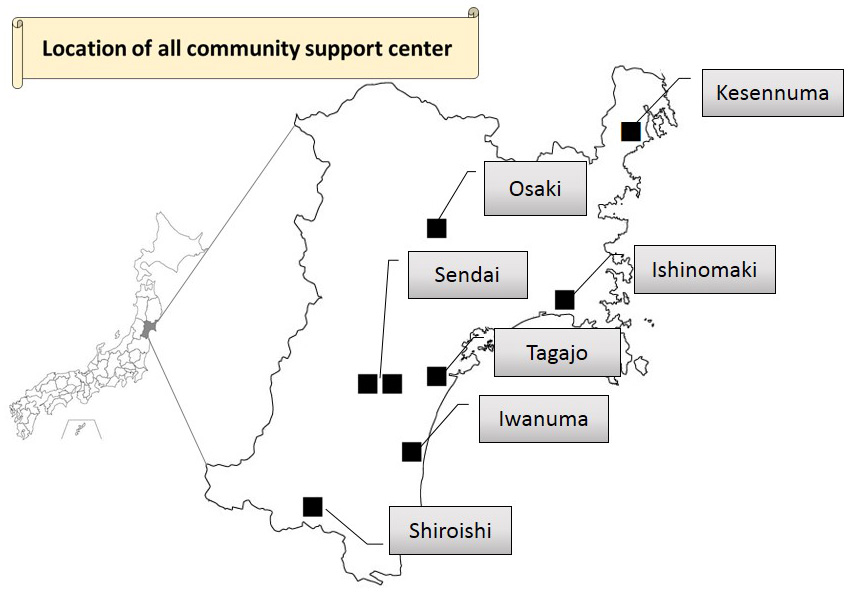 Sendai Community Support Center /
Sendai Child Health Square
Kesennuma Community Support Center
Osaki Community Support Center
Ishinomaki Community Support Center
Tagajo Community Support Center
Iwanuma Community Support Center
Shiroishi Community Support Center
*All support centers are located in Miyagi Prefecture
Medical Examinations Equipment
| | | | |
| --- | --- | --- | --- |
| 1 | 2 | 3 | 4 |
| 5 | 6 | 7 | 8 |
| 9 | 10 | 11 | 12 |
| 13 | 14 | | |
1, Booth for informed consent
2, Blood test
3, Body composition
4, Grip strength test
5, Bone density measurement
6, Hearing test
7, Oral health check-up
8, Carotid ultrasound imaging
9, Respiratory function test
10, Ophthalmic examination
11, Questionnaire by touch screen
12, Electro-cardiogram
13, MRI
14, Cognitive assessment
MRI
Two dedicated 3.0 Tesla high-resolution MRI scanners have been installed in the building for the Tohoku Medical Megabank Organization. These scanners will allow us to collect data from several thousand subjects every year. We will assess brain gray and white matter volumes, white matter integrities, white matter lesions, brain perfusions, and brain vessel structures through several scanning protocols. We are investigating how daily habits or genetic factors influence the brain, its cognitive functions, and psychological conditions in order to maintain a healthy brain and good cognitive functions for life. Based on these studies, we are considering health damage such as PTSD after the disaster.
Sendai Child Health Square
The Sendai Child Health Square was established in June 2017 as a facility for conducting child health surveys to monitor the development of children. The facility is equipped to primarily survey the health of children aged 5, 10, and 16 years, who are already enrolled as participants in TMM BirThree Cohort Study, while also providing an enjoyable atmosphere for the participating children. The major equipment used for the surveys is similar to that in the Sendai Community Support Center. It is also furnished with special equipment related to child development, such as the Gazefinder (a social development evaluation system).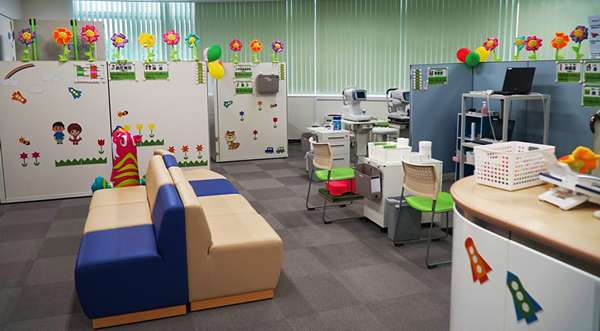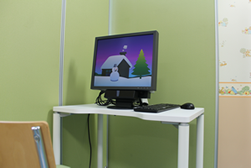 Supercomputer System
The supercomputer system is constructed to serve as the basis of the genome cohort and biobanking project for 150,000 people. In addition to being a data bank that stores various kinds of data, it should also be a basis for conducting various analyses such as large-scale genome analyses to support next-generation medical treatment. The system has 14,880-core CPU and 24GPU' s with massively parallel hard disk systems of 55 petabytes that can carry out high-speed data analysis, and is equipped with the latest optical disks and tape drive those are capable of storing data as long-term storage. The system comprises the largest scale in Japan in the field of medical sciences. The system stores various kinds of data after deidentification, including genome and omics data, as well as the survey information collected from the cohort studies and physiological examination data, thereby ensuring a high level of security. At the same time, it is designed to efficiently conduct the necessary analyses for achieving personalized prevention and medical treatment. The supercomputer system was set up in 2014, updated in 2018, and the most recent update was in 2022.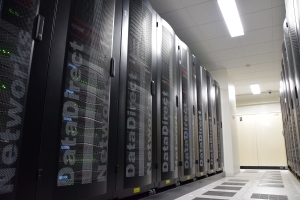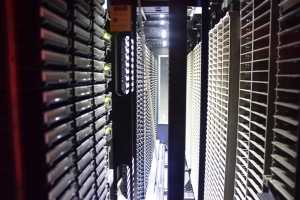 Equipment Configuration
| | | | | | |
| --- | --- | --- | --- | --- | --- |
| | Compute Node(CPU) | Shared Memory | GPU Analysis Nodes | Login Node | Database Server |
| Total nodes | 130 | 3 | 3 | 8 | 6 |
| Total CPU cores | 14,880 | 384 | 384 | 1,024 | 768 |
| Total memory size (TB) | 60 | 12 | 1.5 | 8 | 3 |
| Total GPU | - | - | 24 | - | - |
| | |
| --- | --- |
| High Performance Storage | Archive Storage |
| 55PB | 10.5PB |
Biobank (Biospecimen Storage)
The TMM biobank is one of the largest population-based biobanks in Japan that stores millions of biological specimens in the state of the art storage systems.
Automated sample storage system can hold 4.5 million tubes which contain blood components, urine, breast milk and DNA at either -80°C or 4°C. The system picks specimens automatically minimizing the occurrence of human errors and sample damage. Liquid nitrogen storage system can hold 1.3 million tubes in the vapor phase of liquid nitrogen below -180°C. The tubes contain peripheral and cord blood mononuclear cells and their derivatives. The specimen-associated information is managed by the Laboratory Information Management System(LIMS).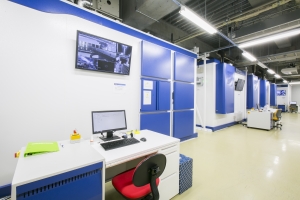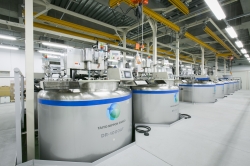 Equipment Configuration
Automated sample storage

Model
Temperature/Purpose of Use
Capacity
Feature
Brooks Biostore II
-80°C /Storage of plasma, serum, buffy coat, urine, breast milk
Around 5.9 million sample tubes in total
Fully automated loading and unloading system.
Small aperture to prevent the temperature change.
Brooks SampleStore II
4°C / Storage of DNA
Liquid nitrogen storage system

Model

Capacity

Feature

Taiyo Nippon Sanso
DR-1000AT (G)-16
Around 1.3 million sample
tubes in total
Automatic filling device of liquid nitrogen.
Sample storage under homogenized gas phase below -180°C.
Chart MVE
1894R-190AF-GB
Related Link
Sample Processing in TMM Biobank (movie)
Genome Sequence Analysis
ToMMo sequencing facility has different types of next-generation sequencers. Its annual output can be more than tens of thousands of high-grade whole human genome sequences. To perform such high throughput sequencing without any sample mix-ups, we set up highly automated experimental pipelines for sample preparations. Using not only short-read sequencers but also so-called long-read sequencers, various types of human genome diversities, such as single-nucleotide variants and structural variants, are being analyzed. In order to sequence a whole human genome with the best quality possible, 20 to 100 times the amount of data (up to 300 billion letters) must be collected for analysis. These massive amounts of data are protected by a highly secure information network and analyzed with our supercomputer system.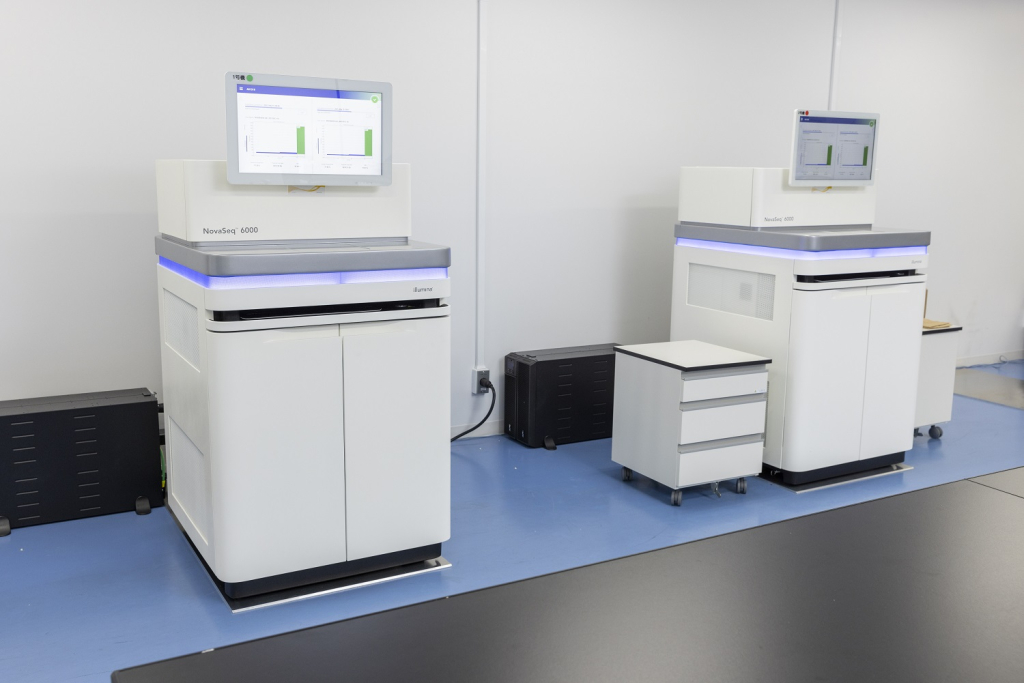 Equipment Configuration
Model

Feature / Use

NovaSeq 6000
(Illumina)
Max output:3,000 Gb / flow cell
Max paired end reads:10 billion reads/run
Max read length:150 bp×2 (with S4 flowcell)
The whole genome sequence of 60 individuals can be analyzed at a time.
HiSeq 2500
(Illumina)
Max output:90 Gb / flow cell (Rapid Run Mode)
Max paired end reads:300 million reads/run (Rapid Run Mode)
Max read length:150 bp×2 (Rapid Run Mode)
Installed when our project started in 2012, and is currently only used for small-scale analysis.
MiSeq
(Illumina)
Max output:15 Gb / flow cell
Max paired end reads:2.5 million reads/run
Max read length:300 bp×2
Used for metagenome analysis of microbiome and the quality control of sequencing libraries.
PromethION 24
(Oxford Nanopore Technology)
Output:~75 Gb /flow cell* (depending on the protocol)
Read length:~25,000 bp* (depending on the quality of samples)
Categorized into long-read sequencers, and thus used for the structural variation detection.
* Under the protocol used for the construction of JSV1:Japanese Structural Variation.
Omics Analysis
The cutting-edge omics analysis facility is able to analyze and quantify, to a high degree of precision, the various metabolites and proteins that are contained in the blood and urine samples stored in the biobank facility. Three high-field and high-sensitive nuclear magnetic resonance (NMR) spectroscopy system (800MHz and 600MHz) and various types of mass spectrometry system (LC-MS, GC-MS, etc.) have been installed for supporting wide variety of analysis. Each system has an auto-sampler, making it possible to analyze several thousands of samples per year. The obtained data are stored in the supercomputer system. Our study provides the standard omics information (types and quantity of metabolites and proteins) of the Japanese people, which is useful for a wide range of medical treatment and research.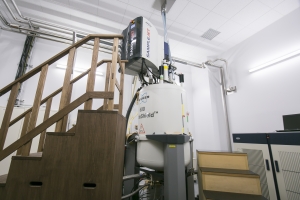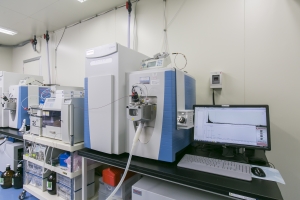 Equipment Configuration
Nuclear magnetic resonance (NMR) spectroscopy system

| | | | |
| --- | --- | --- | --- |
| Model | Resonant frequency | Purpose of Use | Equipment |
| Bruker 800 NMR | 800MHz | Targeted metabolome analysis. | High Sensitivity Cryogenic Probe |
| Bruker 600 NMR | 600MHz | Comprehensive metabolome analysis. | Auto-Sample Changer |
Mass spectrometry system

Model

Quantity

Purpose of Use

Equipment

Synapt G2-Si (Waters), QExactive (Thermo Fisher Scientific)
3
Comprehensive metabolome analysis.
Ultrahigh-speed Liquid Chromatograph
Xevo TQ-S (Waters), Xevo TQ-XS (Waters),
TQ8040 (Shimadzu)
5
Targeted metabolome analysis.
Ultrahigh-speed Liquid Chromatograph, Gas Chromatograph
Orbitrap Fusion (Thermo Fisher Scientific)
1
Comprehensive metabolome analysis.
Targeted and comprehensive proteome analysis.
Ultrahigh-speed Liquid Chromatograph, Nano-LC
Array Analysis
Array analysis facility performs SNP genotyping using microarray techniques. Several types of microarray systems are used according to different purposes of projects. Each system is equipped with a Laboratory Information Management System (LIMS) to record samples and reagents information, conditions of dispensing robots, and others for the process control. The microarray data are sent to our supercomputer system, quality checks and genotype imputation are performed.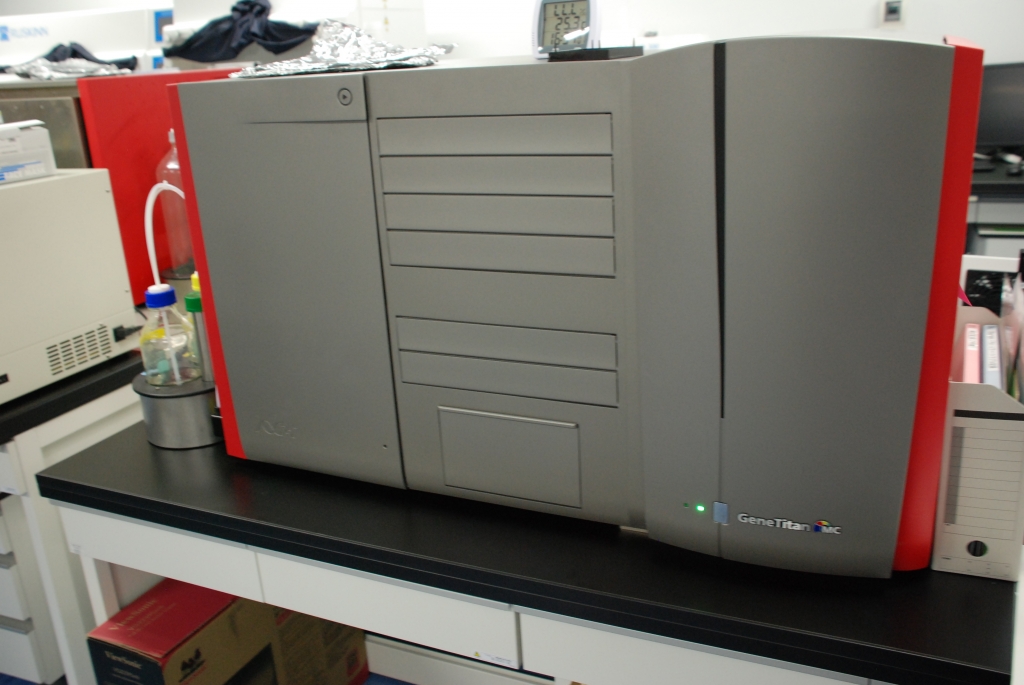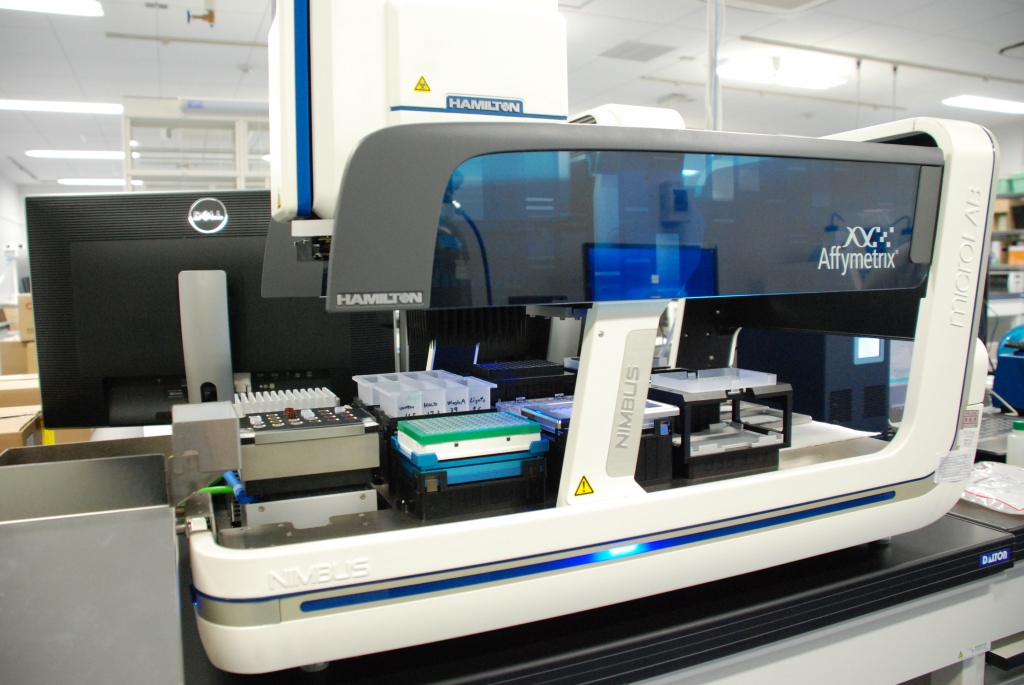 Equipment Configuration
| | | |
| --- | --- | --- |
| Model | Quantity | Feature |
| GeneTitanTM: Fully-automated hybridization and scanner system (Thermo Fisher Scientific) | 2 | Equipment for analyzing fully-customized arrays loaded with approximately 700,000 SNPs (Japonica Array®). With the standard specifications, 1 machine can obtain data from 384 specimens per week. |
| iSCAN scanner system (Illumina) | 2 | Equipment for analyzing BeadChip microarrays. Used to obtain data from Omni2.5 arrays, which are loaded with approximately 2.5 million SNPs. |
Clinical Biobank
Clinical Biobank, as one of the facilities of the Advanced Research Center for Innovations in Next-GEneration Medicine (INGEM), is operated along with the Tohoku University Hospital Personalized Medicine Center to collect the precious biological specimens through medical care from the Tohoku University Hospital. It stores not only liquid samples such as blood components, but also various types of samples, including tissue specimens from surgery. All the biological specimens are anonymized and preserved at appropriate temperatures for future research.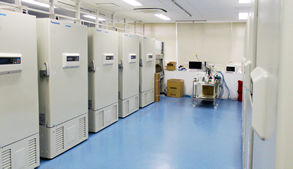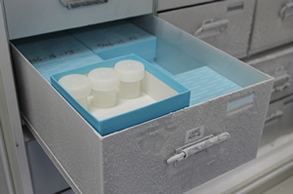 Equipment Configuration
Equipment
Quantity
Operating Temperature
Capacity
Ultra-low temperature freezer
10
-80 °C
Liquid samples: over 300,000 sample tubes (1 cc)
Tissue samples: over 40,000 sample cases
About INGEM
In 2017, Tohoku University was designated as the first three Designated National Universities in Japan. As a world-class research center and a leader of creativity and innovation, which Designated National Universities stand for, we have established a hub for next-generation medicine and founded INGEM as the organization that will play a central role within this hub. In cooperation with eight departments of Tohoku University—namely, Tohoku University Hospital, Graduate School of Medicine, Institute of Development, Aging and Cancer (IDAC), Graduate School of Dentistry, Graduate School of Pharmaceutical Sciences, Graduate School of Information Sciences, Graduate School of Biomedical Engineering, and Tohoku Medical Megabank Organization (ToMMo)—we have created a structure that brings together our collective capabilities. The core facilities of INGEM have been set up at Tohoku Medical Megabank Organization building.
Related Link
the Advanced Research Center for Innovations in Next-GEneration Medicine (INGEM)