Cohort Studies
To study how genetic factors and environmental factors affect disease risk, two large-scale prospective studies, the Tohoku Medical Megabank Project Community-Based Cohort Study (TMM CommCohort Study)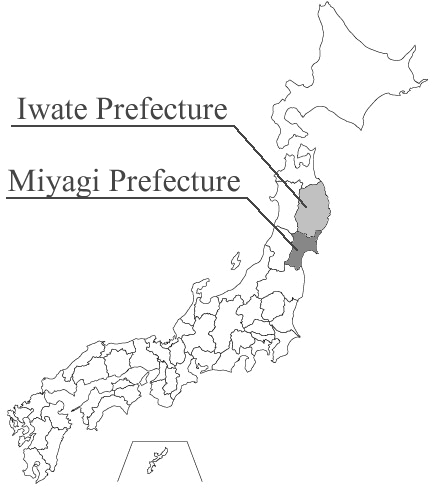 and the Tohoku Medical Megabank Project Birth and Three-Generation Cohort Study (TMM BirThree Cohort Study), are ongoing in Miyagi and Iwate Prefectures in Japan.
Since the cohort studies started in 2013, we successfully recruited more than 150,000 participants for baseline assessment by 2017. We collected biospecimens including serum, plasma, mononuclear cells urine, and the answers to the questionnaires of their lifestyles and medical history. A part of participants took detailed health survey in assessment centers we established.
After the baseline assessment was completed, we have started follow-up study "repeat assessment center-based survey during the second period" in which we ask participants to take a health survey similar to the base line assessment they did at the centers. We made plan for this repeat assessment survey which they take once a 3 to 5 years. We also collect postal or web annually questionnaire and information survey from publicly constructed database.
Detail of cohort studies
Name of cohort study
Type
Recruitment target
TMM CommCohort Study
Population-based cohort
Local residents who are 20 years old or older
TMM BirThree Cohort Study
Family-based cohort,
Birth and Three-generation cohort
Expectant mothers and their family
Number of cohort study participants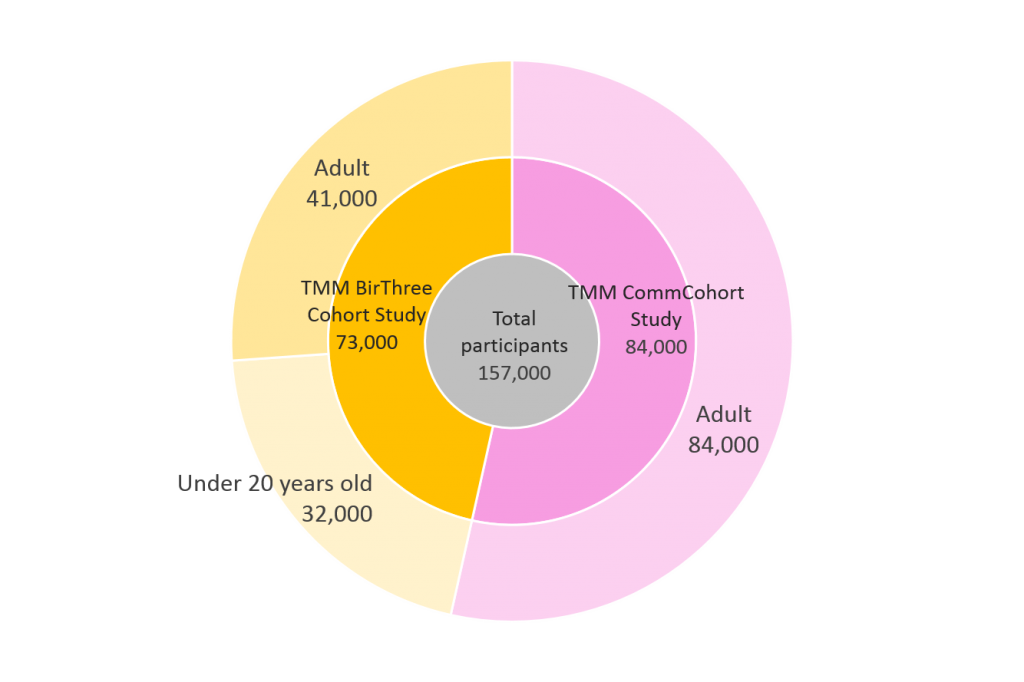 Related information
-TMM CommCohort Study (Japanese Only)
-TMM BirThree Cohort Study (Japanese Only)
-Return of Genomic Results to Cohort Study Participants
Additional Cohort Studies
We also perform some additional cohort studies on participants of TMM CommCohort Study and TMM BirThree Cohort Study. For example, we are studying brain imaging data of over 4,000 subjects through "Health surveillance of the brain and psychological state program with MRI" (the Brain-MRI project). In another example, we are looking at lifelog data of mothers during pregnancy with a smartphone through Maternity Log Study (MLOG). By focusing on some specific topics in different areas, the studies make our biobank resources richer.
The scheme of additional cohort studies
The subjects of additional cohort studies are a part of cohort study participants.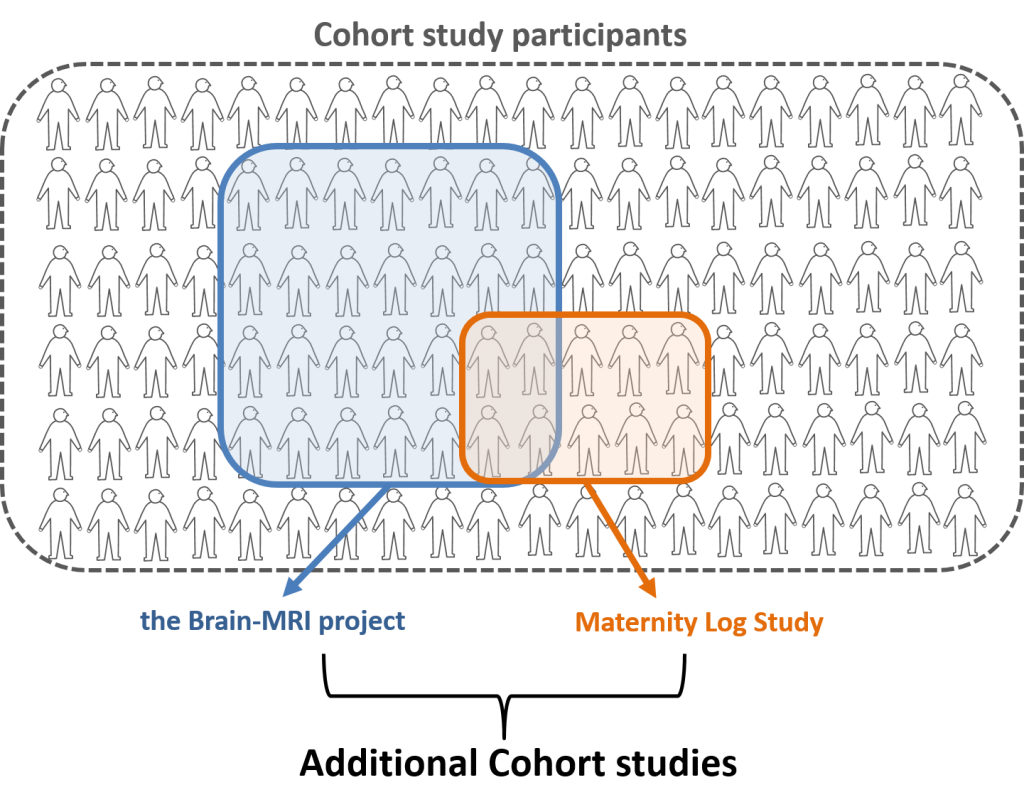 Related information
-Health surveillance of the brain and psychological state program with MRI
Biobank
To achieve the next-generation medicine, such as personalized medicine and healthcare, we have been developing the biobank from the biological specimens of 150,000 cohort study participants. We store millions of biological specimens such as serum, plasma, mononuclear cells, DNA, health information, and genetic data from the cohort study participants.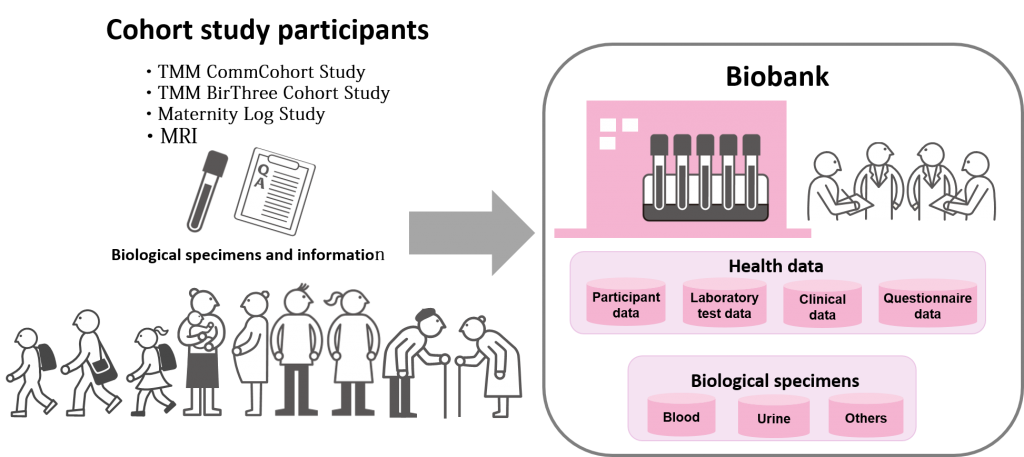 Biological specimens
DNA, Plasma, Serum, Buffy coat cells, Peripheral blood mononuclear cells, Cord blood mononuclear cells,
EBV-Transformed B cells, Stimulated T cells, Urine, Breast milk, Saliva
Related information
Publications
The Tohoku Medical Megabank Project: Design and Mission

Shinichi Kuriyama, Nobuo Yaegashi, Fuji Nagami, Tomohiko Arai, Yoshio Kawaguchi, Noriko Osumi, Masaki Sakaida, Yoichi Suzuki, Keiko Nakayama, Hiroaki Hashizume, Gen Tamiya, Hiroshi Kawame, Kichiya Suzuki, Atsushi Hozawa, Naoki Nakaya, Masahiro Kikuya, Hirohito Metoki, Ichiro Tsuji, Nobuo Fuse, Hideyasu Kiyomoto, Junichi Sugawara, Akito Tsuboi, Shinichi Egawa, Kiyoshi Ito, Koichi Chida, Tadashi Ishii, Hiroaki Tomita, Yasuyuki Taki, Naoko Minegishi, Naoto Ishii, Jun Yasuda, Kazuhiko Igarashi, Ritsuko Shimizu, Masao Nagasaki, Seizo Koshiba, Kengo Kinoshita, Soichi Ogishima, Takako Takai-Igarashi, Teiji Tominaga, Osamu Tanabe, Noriaki Ohuchi, Toru Shimosegawa, Shigeo Kure, Hiroshi Tanaka, Sadayoshi Ito, Jiro Hitomi, Kozo Tanno, Motoyuki Nakamura, Kuniaki Ogasawara, Seiichiro Kobayashi, Kiyomi Sakata, Mamoru Satoh, Atsushi Shimizu, Makoto Sasaki, Ryujin Endo, Kenji Sobue, the Tohoku Medical Megabank Project Study Group, Masayuki Yamamoto
Journal of Epidemiology, Published online: 23 June 2016 DOI: 10.2188/jea.JE20150268
article

Omics research project on prospective cohort studies from the Tohoku Medical Megabank Project

Seizo Koshiba, Ikuko Motoike, Daisuke Saigusa, Jin Inoue, Matsuyuki Shirota, Yasutake Katoh, Fumiki Katsuoka, Inaho Danjoh, Atsushi Hozawa, Shinichi Kuriyama, Naoko Minegishi, Masao Nagasaki, Takako Takai‐Igarashi, Soichi Ogishima, Nobuo Fuse, Shigeo Kure, Gen Tamiya, Osamu Tanabe, Jun Yasuda, Kengo Kinoshita, Masayuki Yamamoto
publication journal
article

Security controls in an integrated Biobank to protect privacy in data sharing: rationale and study design

Takako Takai-Igarashi, Kengo Kinoshita, Masao Nagasaki, Soichi Ogishima, Naoki Nakamura,Sachiko Nagase, Satoshi Nagaie, Tomo Saito, Fuji Nagami, Naoko Minegishi, Yoichi Suzuki, Kichiya Suzuki, Hiroaki Hashizume, Shinichi Kuriyama, Atsushi Hozawa, Nobuo Yaegashi, Shigeo Kure, Gen Tamiya, Yoshio Kawaguchi, Hiroshi Tanaka and Masayuki Yamamoto
BMC Medical Informatics and Decision Making
article
Click HERE for more publications related to cohort study and biobank in ToMMo.