Nicole Gunawansa | May 15th, 2015
This interview was held on April 15th, 2015 in Tohoku Medical Megabank Building
Introduction to the Interviewee: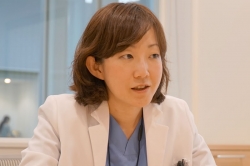 Dr. Yukari Tanaka is a ToMMo Clinical Fellow who works at ToMMo Community Support Center and Onagawa Community Medical Center as a gastroenterologist and general medicine practitioner. She is involved with clinical research, specifically Irritable Bowel Syndrome (IBS) genome analysis in relation to the Great East Japan Earthquake. Dr. Tanaka's medical experience also includes psychosomatics, and she has combined her interests in the brain and internal medicine to move the field of Neurogastroenterology forward.
Part 1- Disaster Analysis: Reflection on 3/11 and the 2004 Chūetsu Earthquake
Question 1: Where were you at the time of the earthquake?
I was in the 5th building of the Tohoku University School of Medicine campus, on the 8th floor, in my lab. We were actually scheduled to do an endoscopy that day at 2pm, but fortunately the patient was unavailable, and so we avoided preforming an invasive procedure during the earthquake.
Having experienced another big earthquake 10 year ago, I knew the feeling of the beginning of a major earthquake, and instructed people to hide under the desks for safety. After the shaking stopped, I wanted to join the hospital's emergency team, but at that time I was only a research graduate student, and did not know how to join. This was actually a really frustrating experience since I had emergency medical training, but had no information on how to enter an emergency relief group. My professor was not in Tohoku at the time, and so our lab had no instructions on how to help in this situation. Emergency leadership and responsibility are extremely important to effectively distribute aid, and the Tohoku region needed more of that during 3/11.
Question 2: Please describe your experience with the 2004 Chūetsu Earthquake in Niigata Prefecture?
The Chūetsu Earthquake occurred when I was in my 5th year of medical school. It was the first time I had ever experienced such a big earthquake, and in the aftermath I witnessed many evacuees being taken and placed at evacuation centers in school gymnasiums. I knew that I wanted to help out the survivors and victims of this earthquake, so I joined a volunteer group at my university. Prior to the Chūetsu Earthquake, this group of medical students provided craft sessions at the pediatric hospital, and so following the 2004 event we provided crafts (e.g. origami and games) and interactions with children at the evacuation centers. This allowed not only for some normalcy for the children, but also allowed for free time for the parents in which they could evaluate the condition of their homes. I believe that the work we did there helped to rebuild trust with community members, providing them the comfort necessary for them to express their feelings and concerns.
Question 3: How did your experience in 2004 impact your disaster response abilities during 3/11? Did you feel better prepared to help because of prior disaster exposure?
In 2011, as a young physician who could not get involved in initial disaster relief efforts, I was frustrated, but also determined to provide aid somehow. A week after 3/11, I went back to Niigata to meet with my husband. While I was in Niigata, I realized that this is a place where my medical abilities could be put to good use. So many doctors wanted to go to Tohoku to provide aid, but many more people (around 100,000) evacuated from Fukushima into Niigata. This resulted in a strain in resources, including physician availability, and so I decided to stay in Niigata to help with the survivors who had moved there.
At night I worked at the Niigata City Emergency Medical Center, and in the day I worked at TUGAWA Hospital-Niigata Prefectural Hospital next to Fukushima (30 kilometers from the Niigata-Fukushima prefectural line). I felt like a useful and effective doctor when working at these facilities because I knew the Niigata medical system well.
When comparing the two big earthquakes, 3/11 was completely different and more concerning than the earthquake of 2004. Considering the number of deaths, widespread loss of homes in the affected region, the Great East Japan Earthquake was a true disaster. My desire to help the Tohoku region recover is what motivated me to work in Niigata, and also motivated me to return to Sendai (mid-April 2011) to evaluate the interaction between stress and internal medicine.
---