Nicole Gunawansa | April 1st, 2015
This interview was held on February 18th, 2015 in Tohoku Medical Megabank Building
Introduction to the Interviewee: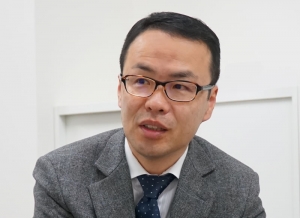 Dr. Junichi Sugawara is an obstetrics and gynecology physician (OB/GYN) at Tohoku University Hospital, and head of the Division of Feto-Maternal Medical Science at ToMMo. In addition, he is coordinator of the ALSO® and BLSO® courses being held in Ishinomaki City as a part of ToMMo's efforts to promote disaster preparedness.* Dr. Sugawara also runs the TOMODACHI-GE Miyagi Perinatal Program which aims to achieve maternal and child support in the disaster affected regions.

*ALSO® and BLSO® are emergency obstetrics programs started in the United States in 1991.They have been introduced to the Tohoku region by Dr. Sugawara and will be further explained in Part 2.
Part 1- Infant and Maternal Care Following 3/11
Question 1: Where were you at the time of the earthquake?
I had just finished work at the obstetrics outpatient clinic here at Tohoku University Hospital, and was heading for a late lunch when the earthquake started. At that I was located in the ground floor of the hospital, in an old part of the building, and was quite shaken up by the event. I immediately moved to the prenatal-maternal unit to check on the condition of the mothers and infants. Despite experiencing some shock, everyone in the unit, and even all the medical instruments, were stable. We were very fortunate.
Question 2: What are the major issues that expecting mothers and infants faced immediately following the Great East Japan Earthquake (according to your survey data)?
Information access was the main issue. Expecting parents had no idea about the status of the hospital, or where to get supplies for their small children, and they did not know how to obtain such information due to the lack of electricity and internet access. My department and I have been trying to develop solutions for this problem. We have decided that the best approach is to disseminate the necessary information at prefectural offices in the small booklets that are given to all expecting mothers. This information includes not only the concerns I have mentioned, but also how to evacuate, what expecting mothers should prepare in for a disaster, and local and geographical material. We hope to have this distribution system up within the next year.
Another issue relating to information exchange is the lack of data sharing between the healthcare system and the hospital during the disaster. We could not efficiently communicate with other departments, or with the healthcare programs which track infants and new mothers following discharge from the hospital. Normally this system works to evaluate the mental and physical conditions of new mothers (e.g. check for depression), but due to communication issue, this was not possible and it resulted in increased postpartum depression rates immediately after 3/11. We could also not effectively interact with Disaster Medical Assistance Team (DMAT) to provide support to the few doctors trained in obstetrics. We are working to improve communication within various healthcare sectors, including DMAT and various staff in Sendai City and Miyagi Prefecture, in order to better prenatal care during future disaster situations.
Question 3: What is the protocol for child delivery (including emergency delivery) during a disaster situation?
There is no standardized protocol across Japan. The Tohoku University Hospital protocol requires that if the ER is non-functional or overwhelmed with serious patient cases (e.g. trauma), then child deliveries (including emergency deliveries) be performed in the delivery room. Protocol also dictates that mothers are to be discharged three days after child natural delivery and five days after Caesarean section. In Japan, under normal circumstances, mothers stay in the hospital for five to seven days following birth, but this monitoring period is reduced because of the influx of patients in the OB/GYN unit following a disaster.
Question 4: What was the obstetrics situation in local hospitals following the disaster? 
Tohoku University Hospital was fortunate in that we had enough medicine and medical staff for proper mother and infant care. However, we did run into the problem of not having a proper stock of special nutrition milk formula, so that had to be brought in from other regions, including Tokyo.
After ensuring that our department was inorder, I called all the hospitals in Miyagi Prefecture and asked about their situation, relating to the obstetrics unit. I collected information from these local hospitals, and then distributed the volunteer physicians to those areas. The infrastructure of the local hospitals posed big problems like lack of electricity or water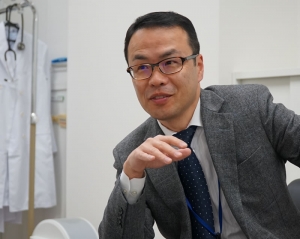 supply. In fact, two private clinics were completely destroyed by Tsunami in Ishinomaki. Physicians were sent not only to help solve infrastructure issues, but also to assist in the transfer of high risk pregnancy patients to the major hospitals like Tohoku University Hospital and Ishinomaki Red Cross Hospital. On March 15th, thirteen helicopters were employed just for obstetric patient transfers to Tohoku University Hospital. This need for transfers was indicative of the increased delivery rate in March of 2011. We are now investigating prenatal outcomes between 2011 and the following years to evaluate the role of the disaster in preterm delivery, pregnancy induced hypertension, and other pregnancy related complications.