Nicole Gunawansa | March 9th, 2015
This interview was held on January 14, 2015 in Tohoku University Hospital
Introduction to the Interviewee: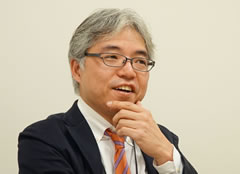 Dr. Tadashi Ishii works as a physician at Tohoku University Hospital, serves as a professor at Tohoku University School of Medicine, and acts as the director of Tohoku University's medical dispatching system. He also is the Miyagi Prefecture Disaster Medical Coordinator, a position he held at the time of the Great East Japan Earthquake when he was working as the head of surgery at Ishinomaki Red Cross Hospital (link). Additionally, Dr. Ishii acts as the secretary general of ACT Institute of Disaster Medicine*, which he helped establish in the wake of 3/11 to prepare Japan for future disasters.
Background about Ishinomaki Red Cross Hospital: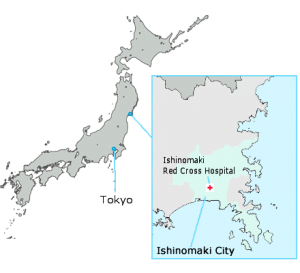 Ishinomaki Red Cross Hospital is located in Ishinomaki City in Miyagi Prefecture. In 2006, this hospital underwent alterations in structure and location to better prepare the facilities for disasters. The hospital redesigned the disaster response manual in 2008. In 2010, the hospital established a network council for disaster medicine preparedness, and also began cooperating with major corporations (NTT DOCOMO and Sekisui House) to obtain resources within a disaster situation. These changes helped Ishinomkai Red Cross Hospital withstand the Great East Japan Earthquake of 2011, becoming the only hospital in the Ishinomaki Medical Zone equipped to treat patients following the disaster (see Dr. Ishii's paper: Medical response to the Great East Japan Earthquake in Ishinomaki City).
Part 1- Disaster Aftermath: Experience of a First Responder
Question 1: Where were you at the time of the earthquake?
I was in surgery at Ishinomaki Red Cross Hospital, operating on a patient with metastatic liver cancer. I remember that there were five minutes of extreme shaking, and that I realized this was the biggest earthquake I have ever experienced. Fortunately, the operation was almost complete when the earthquake started; I switched with my colleague, and then I headed to the hospital headquarters (HQ) to assemble the disaster task force.
Question 2: Please summarize your experience of being involved in the first responder efforts immediately after the disaster?
Prior to the disaster, medical staff at Ishinomaki Red Cross Hospital annually participated in various disaster rehearsal drills. When the disaster hit, the personal at the hospital responded in a timely and orderly fashion in accordance to their training. By the night of the 11th, relief teams from across Japan were starting to travel to the affected areas. Seventeen teams from our hospital were organized and then dispatched into the community to obtain detailed disaster information, aside from the data being provided by the local government. As the Miyagi Prefecture Disaster Medical Coordinator, I was in charge of these relief teams. My responsibility was to conduct not only medical treatment but also health care based on the comprehensive collection, administration and analysis.
Question 3: What were the biggest issues that Ishinomaki Red Cross Hospital faced after the disaster?
There were eighty-six hospitals and clinics in Ishinomaki City. Only six hospitals were functional after the disaster, but most of these hospitals had no electricity, no water supply, and crumbling infrastructures. Ishinomaki Red Cross Hospital became the only medical facility equipped to handle patients after 3/11 due to our electric and hydro resources, and disaster victims flooded into the hospital from the surrounding areas. The hospital ceased to perform its regular duties and started to conduct only disaster relief. The triage system was established within the hour following the disaster. In usual medical conditions, we can treat patients as they come due to abundance of medical resources, but in the disaster condition, we have to treat many patients all at once, thus our medical resources become strained and a shortage occurs. Therefore, we must conduct the four triage areas to treat patients according to their severity and urgency. The patients in critical condition were low in numbers. The reason why we had only ninety-nine patients on the day of the disaster was because they were the only patients who were able to reach our hospital. Those who were critically injured were often stuck in dangerous disaster areas, unable to be transported to the hospital. This was a big problem because six out of the fourteen ambulances in the area were lost to the tsunami. However, Japan has a dispatch system for ambulances in the case of a disaster: Emergency Fire Response Teams. Thus, in two to three days after the March 11th, ambulances (and medical volunteer staff) from all over Japan started arriving in Ishinomaki.
Electricity and water supply were cut off in the Ishinomaki zone just after the disaster. It was necessary for us to obtain information about the disaster, in response to the requests coming from Japan Self-Defense Force (JSDF) and other organizations, the dispatched relief teams began relief work on March 12th on a best-effort basis. On the same day, we discovered that a large part of the city were flooded including our city hall, which meant that Municipal government were paralyzed. Since there was absolutely no information available, we actually had to visit cities in Ishinomaki zone for assessment and relief work. Each city was in total devastation with major damage to the infrastructure.
On March 16th, a list of approximately three hundred evacuation shelters was obtained from city hall after the water receded. However, the list had names and number of evacuees only, and did not provide basic information regarding the availability of drinking water and provisions, lifelines such as electricity, water supply, sanitary conditions and heating. We were not able to decide how to perform any relief work. Administrative functions were paralyzed therefore we could not rely on administrative government to respond to our inquiries, it was necessary for us to gather information directly from all evacuation shelters. March 17th, I asked the relief teams to asses all evacuation shelters. The relief teams then split up and visited all emergency shelters to make initial assessments
(Note: In total, 955 dispatch teams from all of Japan came to the Ishinomaki area. These teams acted for four to five days at a time on a rotating system.)
Question 4: What has your position as Miyagi Prefecture Disaster Medical Coordinator taught you about disaster medicine and disaster relief organization?
The "Miyagi Prefecture Disaster Medical Coordinator" is just a title. Miyagi prefecture simply asked me to act if/when a disaster strikes, nothing was determined in advance. Fortunately, the Ishinomaki Red Cross Hospital had trained me well for a disaster situation. All of the personal there were equipped with the background knowledge necessary to act in a disaster related emergency, and facilitate disaster relief efforts. I used my Red Cross training to help me in my position as coordinator, and to help me make on-the-spot decisions about the next step to take to ensure the recovery and safety of the victims/patients. On March 20th, I established and supervised the "Ishinomaki Zone joint relief team" as one of the Miyagi prefecture disaster medical coordinators. The joint relief team received cooperation from Tohoku University, Miyagi prefecture, municipal government and medical/dental/pharmacy associations.
All dispatched teams from across Japan worked together in a coordinated effort. The number of teams reached as many as fifty-nine teams in a single day on March 26th. I was very lucky to be the Miyagi prefecture disaster medical coordinator! Because of this title, all dispatched relief teams considered that this Joint relief team was managed by Miyagi prefecture and they joined us.
ACT Institute of Disaster Medicine *
On March 11th, 2012, The ACT Institute of Disaster Medicine was founded to maintain the networks created during the disaster and develop specialists in disaster medical care in Japan and overseas.