Interview with Dr. Kiyomoto from the Department of Community Medical Supports
Nicole Gunawansa | January 23rd, 2015
This interview was held on December 2nd, 2014 in Tohoku Medical Megabank Building
Introduction to the Interviewee: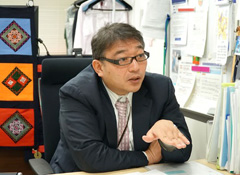 Dr. Hideyasu Kiyomoto is the chair of the Department of Community Medical Supports, which works to improve local medical services within the coastal areas affected after the disaster of 3/11. In conjunction with ToMMo, Tohoku University Hospital, and Tohoku University School of Medicine, he has helped establish the ToMMo Clinical Fellowship to promote medical education and networking in disaster stricken areas. Dr. Kiyomoto is also a professor of Integrated Nephrology and Telemedicine at Tohoku University School of Medicine.
Part 1- The Rescue: Immediate Relief Efforts after 3/11
Question 1: Where were you at the time of the earthquake?
On March 11th, I was not in Sendai. I was presenting at a seminar in Kagawa for World Kidney Day. I had departed from Sendai that morning, and had arrived at Takamatsu around the time the earthquake happen. I tried to reach home and the Tohoku University School of Medicine, but that proved to be difficult as electricity and cell phone signaling towers were down in the Tohoku area. There was very limited communication and transportation between the affected region and the rest of Japan immediately following the disaster. After I got in contact with my daughter in Himeji City to let her know that I was safe, I decided to head back to Sendai to help in the relief efforts.
Dr. Kiyomoto's Disaster Relief Travel Timeline
(March 2011)

Location on map

11th
Takamatsu (Kagawa)
12th
Takamatsu to Tokyo via Himeji
13th
Tokyo to Sendai
14th
Sendai to Ishinomaki
15th
Ishinomaki
16th
Ishinomaki to Sendai
17th
Sendai to Kesennuma
Question 2: Can you summarize your experience of being involved in the first responder efforts immediately after the disaster?
Due to the severity of the disaster, my subordinate in Kagawa, Dr. Ihara, organized a rescue team to support Japan DMAT (Disaster Medical Assistance Team) and provide additional aid in the areas affected by the tsunami. I left Shikoku to meet with this team, and then we drove through Fukushima (with special permission) as it was the most direct route to the coastal city of Kesennuma. The rescue team was composed of doctors, other types of medical professionals, and researchers. We were to act as a support system for the local medical staff in the devastated area and provide additional man power to efficiently treat the injured and sick who, due to a lack of transportation to Sendai, could not be seen in major hospitals.
Although well-intentioned, this team was not completely prepared for the task ahead. Our true emergency doctors had to remain at Tohoku University Hospital (as it was a designated disaster center), and our team consisted of many researchers who were unfamiliar with disaster medicine. We were also restricted in our communication with the other rescue teams in locations such as Ishinomaki because we could only converse via emails on cell phones. The lack of information about the status of other areas only increased our confusion about the severity of the disaster and the resources needed for appropriate aid. However, the triage system for labeling patients depending on their level of injury allowed us to resourcefully handle our time and medicinal supplies when treating patients. Also, I believe that our presence provided comfort and hope to the evacuated people in the coastal area by reassuring them that they have support in their time of need.
Question 3: You also aided in later response efforts such as transferring dialysis patients from Kesennuma to Hokkaido. Can you talk more about this event?
Dialysis patients are special cases in a disaster situation. These patients have many needs such functional dialysis equipment, electricity for those instruments, and a large supply of clean water for the dialysis process. For one hour of dialysis (for one patient) thirty liters of water are needed; if you multiply this amount of water by the number of evacuated dialysis patients, then tons of water would be needed for adequate care.
On March 17, 2011 I had a new mission to evaluate the condition of the northern territory (Kesennuma). What I found there that many dialysis centers were destroyed by the disaster and only one hospital (Kesen-numa City Hospital) was open to dialysis patients. However, this hospital did not have enough dialysis units to handle the influx of patients (only 60 beds for 240 patients), and so this meant truncated sessions. Instead of a patient having dialysis for four hours three times a week (total of twelve hours per week), a patient was receiving dialysis for only two hours twice a week (total of four hours per week). The Kesen-numa City Hospital also experienced a severe lack of sufficient electrical power and water supply, due to a building fire that occurred after the earthquake, restricting the resources available for dialysis treatment. Additionally, the limited medical staff at the hospital was extremely overworked and struggling to maintain a positive morale as 30% had lost their homes in the tsunami. In order to ensure that these fragile patients received appropriate care, we decided to move those on dialysis to a less affected area: the city of Sapporo on the northern island of Hokkaido.
The trip to Sapporo proved to be challenging due to the instability of the patients, the distance of the trip, and the gasoline rationing that was occurring at the time. We enlisted the help of the Self-Defense Force and chartered two busses for the trip. Employing the staging care unit technique, we dropped off eighty patients to Tohoku University Hospital on March 19th to receive hemodialysis and medical checking for evacuation; only the strongest patients made the long journey north. We then used a cargo plane to ensure the speedy transportation of the patient. This cargo plane was not ideal for the patients as it did not have commercial airline seats, was poorly pressurized, and was able to only transfer forty patients simultaneously. We divided the patients into two groups and flew to Chitose airport near Sapporo on March 22nd and 23rd. Upon arrival, transferred patients were hospitalized around Sapporo city immediately, and spent three months there.