Events: 2015/12/07
---
A symposium was held at Tohoku Medical Megabank Building on December 7th. Prof. Jan-Eric Litton (Director General, BBMRI-ERIC) gave a lecture "BBMRI-ERIC; a new Governance tool for Biobanking and International Standardization". BBMRI-ERIC aims at establishing, operating, and developing a pan-European distributed research infrastructure of biobanks and biomolecular resources to support high-quality biomolecular and medical research.
Prof. Naoko Minegishi (ToMMo) presented on "Agenda of Tohoku Medical Megabank Project". Prof. Mamoru Satoh and Prof. Yuh Shiwa (Iwate Tohoku Medical Megabank Organization) reported the Tohoku Medical Megabank Project Community-Based Cohort Study and research project in Iware Prefecture. Prof. Hidekazu Shirota (Tohoku University Hospital) gave a presentation about Tohoku University Hospital Biobank Project.
Prof. Jan-Eric Litton took a tour of the facilities such as Sendai Community Support Center, Biological Sample Storage system, Sequencing facility, and Supercomputer system.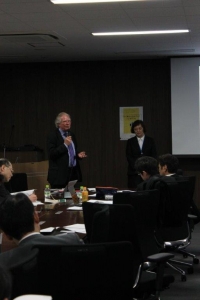 Reference information
EU-Tohoku Biobank Symposium (Dec. 7) [Events: 2015/11/20]
---