News: 2015/3/20
---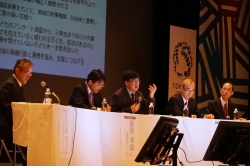 The Third United Nations World Conference on Disaster Risk Reduction (WCDRR) took place in Sendai from March 14-18th. We made several presentations and exhibitions at the WCDRR as one of eight projects for disaster reconstruction conducted by Tohoku University.
Professor Yamamoto, Executive Director of ToMMo, presented an outline of our project and reported the status of our contribution activities for the stricken area, in a panel discussion titled "Restoration and Renovation of Medical Care" which was a part of the Tohoku University Symposium "Our Message to the future - Lessons learned from the Great East Japan Earthquake-", at Tokyo Electron Hall, on February 15th. UN Secretary-General Ban Ki-moon gave a special lecture at the outset of the symposium in a hall packed with over a thousand attendees.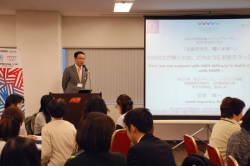 On the evening of Sunday 15th, Professor Junichi Sugawara, the Deputy Chair of Department of Community Medical Supports, organized a public forum titled "Emergency Preparedness in Maternal and Child Care: Reconstructing by creative collaboration between community medicine and the public health care system", as a side event of the WCDRR, at TKP Garden City Sendai. More than one hundred participants gathered at the forum, mainly professionals who work in maternity health care, and seriously discussed future disaster preparedness for pregnant women, postpartum mothers, and newborn babies.
Throughout the entire conference, in the exhibition booth at Tohoku University Centennial Hall "Kawauchi Hagi Hall", ToMMo presented posters and displayed heart-shaped wishing cards on a tree. Wishes for future health were prewritten by the participants of our cohort studies and local residents in Miyagi, and also written by visitors from across the world during the conference at the booth. At the end of the day, eight hundred and sixty seven wishing cards were collected with various wishes, including wishes for the health of babies growing in the womb, wishes of happiness for people on the earth, and wishes for a painless injection written by a little child, which appealed to many visitors across the world. After the conference, the wishing cards tree was showcased at ToMMo's building on Seiryo Campus until the end of this April.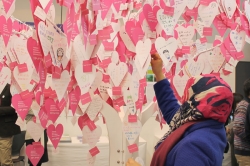 During the five days, there were many events such as a poster exhibition of an academic progress report on the "ToMMo child health study" presented by Associate Professor Masahiro Kikuya and his colleagues, and a study tour of ToMMo's facilities by participants in the conference. WCDRR gave ToMMo a chance to tell the world of its full efforts in the project for the reconstruction of community health care, and its message for the future.
Related Information
Study tour from WCDRR visited to ToMMo [News: 2015/3/18]
Related Links
The Third United Nations World Conference on Disaster Risk Reduction (WCDRR)
Tohoku University DRR Actions
Related events
---