Events: 2013/08/05
---
Seven members of September 11th Families' Association (family members, survivors, rescue and recovery workers, residents of the WTC neighborhoods), Dr. Craig Katz of Icahn School of Medicine at Mount Sinai, and Dr. Yanagisawa of Japanese Medical Society of America came to Tohoku university and had seminar.
Dr. Craig Katz, Mount Sinai Global Mental Health is working towards disseminating a long-term community recovery project.
They shared their personal stories of transformation and gave hope to survivors of the 3.11 earthquake disaster in Tohoku, Japan.
The seminar was held in Sendai on 5 August, 2013.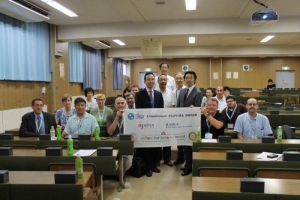 Related Links
Second Tohoku Outreach Mission
September 11th Families' Association
Japanese Medical Society of America
---