Events: 2012/12/14
---
Tokyo---Dr. Masayuki Yamamoto, Executive Director of Tohoku University Tohoku Medical Megabank Organaization (ToMMo), and Dr. Kristian Spreckley, Scientific Project Manager of UK Biobank, gave lectures at Tohoku University 5th International Industry-University Collaboration Symposium held on the 4th of December, 2012, in Tokyo. They explained the importance of Biobank for further development of medical services in Tohoku area, Japan, and other parts of the world.
The title of the symposium this year was "Message from Tohoku University---Learn from Disaster: Collaboration with International Community in New Era." The symposium introduced the University's new activities in cooperation with global organizations for reconstructing Tohoku. The major projects of both Tohoku Medical Megabank Organization (ToMMo) and International Research Institute of Disaster Science (IRIDeS) at Tohoku University were presented as forefront endeavors aiming for globalization of the University's numerous researches and actions after the Great East Japan Earthquake.
During the lecture by ToMMo's Executive Director Dr. Yamamoto, he recalled the times right after the earthquake saying, "When I look at the pictures of that time, I strongly remember how big the impact was. But even in the severe situation, our School of Medicine demonstrated leadership to send totaled more than 1,500 doctors immediately to the area hit by the disaster during two months after 3.11."
He explained the need of developing ToMMo as one of the main projects to enhance creative reconstruction of Tohoku region from the medical front. "The most beneficial factor of ToMMo would be improving the environment of electronic record of patients in Tohoku region. Sharing the format of electronic record in all hospitals in Tohoku would be of great help in personalized medicine and preventive medicine for individuals. Carefully securing patients' record could also prevent a loss of patients' data in future by a possible natural disaster or accident," said Dr. Yamamoto.
Moreover, he presented the initial focus of the long-term, big genome cohort projects with 80,000 local residents in Tohoku saying, "A lot of research have already been done by Biobank projects in other countries such as the United Kingdom and the United States, so we are going to investigate characteristics of heredity data in Japanese people by focusing on 1,000 local residents living in Tohoku area."
After the lecture of Dr. Yamamoto, Dr. Kristian Spreckley, Scientific Project Manager of UK Biobank gave his lecture to introduce the current projects directed by UK Biobank. He explained that the organization was established in 2006, and today the process of UK biobank has been systemized for collecting, storing and analyzing of 500,000 people's samples from assessment centers. "Biobank would contribute to medical services as doctors would be able to have better idea of patients with complex diseases by using the data of the patients from Biobank."
Among others, Dr. Susumu Satomi, President of Tohoku University, Mr. Alex Ross, Director of WHO Center for Health Development, and Mr. Martin Jetter, General Manager of IBM Japan Ltd. also delivered their lectures. During the symposium, global and long-term visions for reconstruction of Tohoku were shared among the attendees of over 100.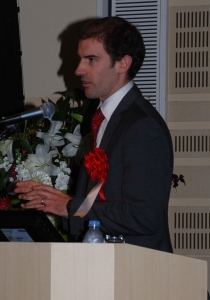 ---